How To Choose A Best Coffee Tamper?
Posted by Simonou Mike on
Many Baristas asked these questions:
how tight a fit should it be when some minor size variation for tamper?
If it is enough space to move, so... but how much space is too much?
what can you say about the coffee tamper styles? who can tell me which is the best?
where to buy the good coffee tamper for me and the price between 25usd-35usd, and fashional and look cool?
Can I buy a
DIY coffee tamper
with my own name or my own logo so that will only belong to me?
......
Many questions from the baristas.
For barista beginner they really need a good tamper to improve they are barista skills,
And for the well-experienced Baristas, they want a good tamper with his own brand name or his logo on it, so that more and more people can know him and it will be the sign for him, if the make a vedio with his own tamper, the people will see that he have a cool customize tamper, it is very cool for their job.
So now will begin to talk about the good coffee tampers.
1. What is coffee tamper?
A coffee tamper is used when making espresso, either in a machine or a espresso maker.
Coffee tamper tool is really need for getting the better espresso as possible.
Any the coffee tamper is easy to use if you put the right position and proper technique to tamp the coffee powder,
Tamper is the tool to get the espresso from the basket and espresso machine.
 So a tamper can tamp the coffee grounds evenly for a quality shot.
 Means you're taking it to a tightly compressed inside the Portafilter.
2. Why is the espresso tamper so Important?
So we wanna say that is a simple science behind tamping.
Because good tamping can make baristas perfecting their the grind and the timing and it is key to get a quality shot of espresso.
coffee Balance in tamper basket is the key!
When you go to pull a shot, the water is go down the portafilter and then go into the coffee basket.
If your position of full filled coffee powder are left in a loose pile, the water will shoots right through,  so it is not possibl.to get good espresso and we can avoid this wrong section.
Because it is far away from good espresso ideally.
So if we use a good coffee tamper to tamp the coffee ground correctly , the water will force its way through the basket.
What we need is that the water interacting with the coffee longer and running through the entire cake of grounds.
The time and distribution result will compacts the ​espresso shot.
In one word, the tamping can make it harder for the water to rush through the grounds.
3.How to choose the right Coffee Tamper for you?
*Right Weight and Right Diameter.
*Easy to tamp and not harmful for you hand if you tamp many times day.
*Better price and enjoy more higher Reputation
If you make espresso shots frequently, Get one right coffee tamper is very important for you.
A good tamper means lightweight metal and the size of Portafilter is correct for your tamping.
By the way, you have more baskets to handle if you are busy for barista job, better you can get more tampers or you can use a convex tamper.
What is convex tamper?
That means the coffee distributor.
And now the styles mostly the Baristas use for coffee tampers will be :

two side Tamper - it have two flat ends, one side is a smaller and other side is bigger.
sometimes if barista have different baskets to tamp.
But this one is not popular now, it is out of fashion.
Handle Tamper - These tampers will hold the knob in your hand and use it like a stamp , and it will have a flat or convex as the base bottom.
The knob materials made by metal or wood.
And that also add more force and save your power to tamp and good for  professional baristas. like these 58mm coffee tamper.

    3.Tamper with Weight-Calibrated  - This is another handle tampers. But this tamper designed to give a specific force behind the tamp.
 When you tamp over 30-pound force , the second tamp will come down.
4. Distributor&Tamper Set - Some baristas prefer the style of tamper more easier and freedom. These like holding a ball in hand, and use it to tamp,  have more fun and really cool.
 4.
What kind of coffee tamper you will Choose?
The Versions of the tamper is updating very fast, but now , The Professional baristas all know that  tamping too much will get more painful and strains in their hand and wrist.
So they pick the simple one and new fashional espresso tamper for themselves.
The diameter of tampers is 51-59mm diameter range. Choose one to fits your baskets.
And 58mm tamper is most popular one.
spend $30-40 on a high-quality tamper will be good.
Some barista buy some automatic espresso machines include a built-in tamper free for gift.
Be Careful.
That maybe the one with arm extension and will be harmful for your hand.
It is not ideal to get correct force for tamping and can not make nice espresso properly.
So what kind of tampers is highly recommended ?
1.OCD distributors
Very good design and popular.Baristas like it very much.
But price is high. 100USD more for one.
2.BaristaSpace Brand coffee tamper&distributor set.

BaristaSpace is new one, but popuar in the world now.
1.Have adjustable height 18mm and have measurement.
2.The design make your hand not harmful if you shot espresso many times a day and the baristas all like this for their job.
3. price is range of 30-60usd for 1 piece.
4. Can DIY your logo on the coffee tamper, the customize logo coffee tampers will make it only belong to you.
Thank you for you reading for this article, please click here to check the blogs to learn for the coffee espresso lessons and make your barista job more better.
Popular Coffee Machines you can click this picture to check: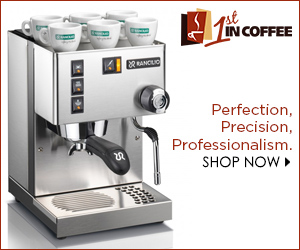 ---
Share this post
---
---
---
20 comments